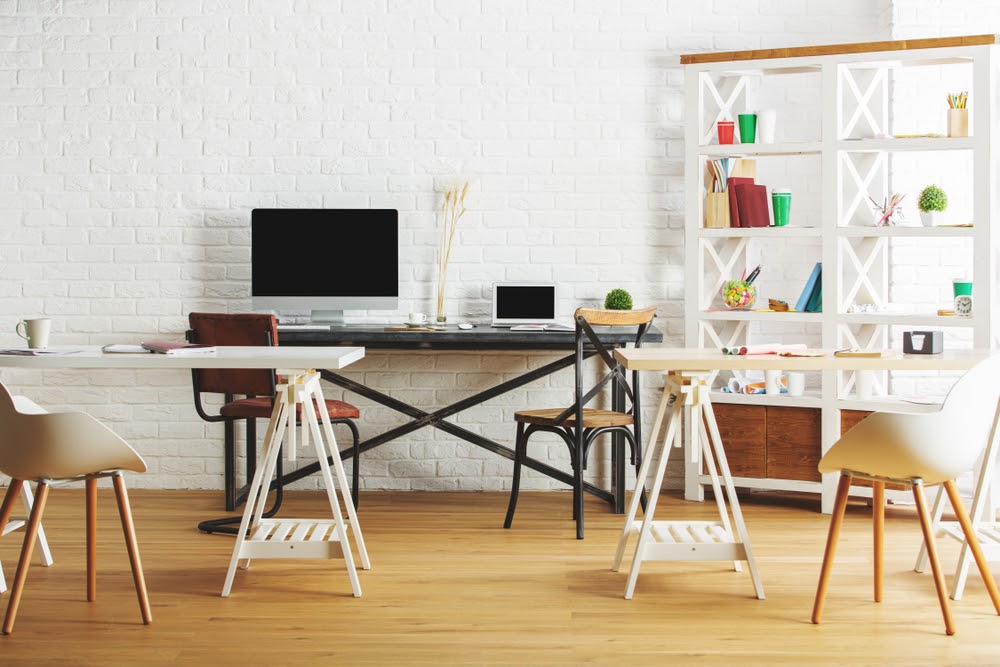 types of senior living facilities
had to change. This is for the safety of their residents. For millions of workers, the new normal means working from home. Experts are not expecting this trend to end anytime soon. One survey even shows that arrangements for
remote work will increase in 2021
. The transition to remote work has been tough as most employees had to scramble to set up a home office. But with COVID-19 still present, it's time for you to get serious and create a space for work. Here are some
functional home office ideas
to help you become more productive.
Things Every Home Office Needs
The remote work setup is not easy for many employees. Many parents also have to deal with their children's online classes. Others don't have a lot of space at home. The lack of space or privacy shouldn't stop you though. You can still create a professional-looking space. Here's what your home office needs:
Desk or Table: A traditional desk is a key element of any office. It should follow the proper ergonomics to ensure the use is productive. But if you have limited space, a small table or counter will also work.
Comfortable Chair: A good office chair is another vital component of any office. You should try to invest in one that is comfortable and uses the right ergonomics.
Computer: You can't work from home without your own computer. While a desktop PC has more power, a laptop is portable. You can work anywhere with it. It's also a better choice if your work entails meeting clients. An extra computer screen can also be a good addition to your home office.
High-Speed Internet: You need broadband or fiber connection today to be more efficient. Fast internet access is also crucial when you have Zoom meetings or online classes.
Good Lighting: The right lighting level is crucial to your health and productivity. Lighting that's too dark can cause headaches and eye strain.
Shelves and Storage: You should have enough storage for files and work paraphernalia. A file cabinet is ideal. But if space is tight, you'll have to be creative. A bookcase or shelves can hold your files and other office items.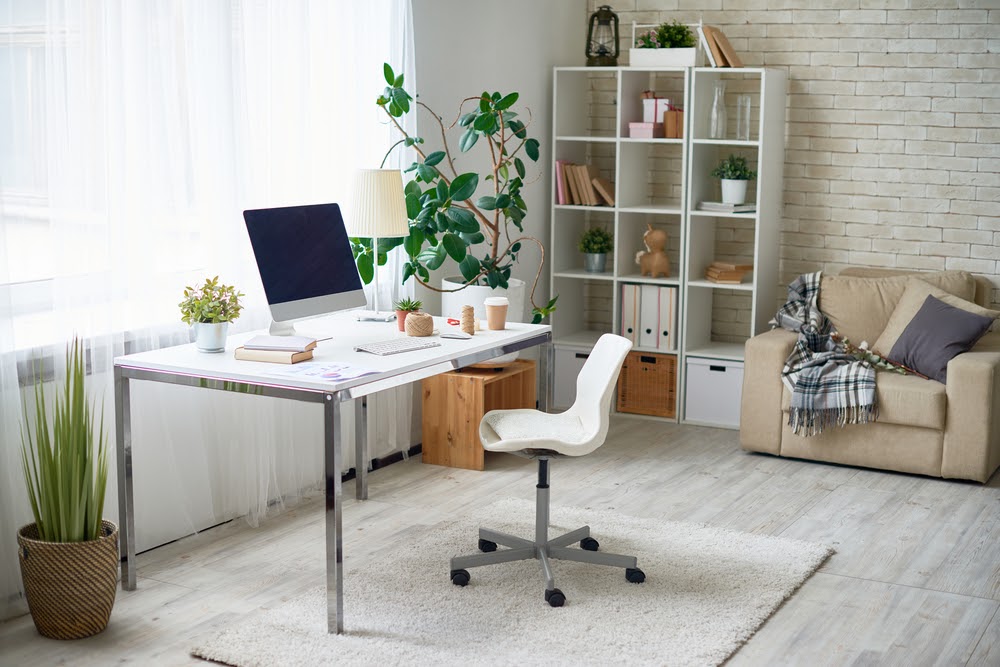 Top Functional Home Office Ideas
Whether you have an extra room or a small space under the stairs, you can create an awesome home office. All you need is a little planning. Here are some ideas to consider:
It's best if you assign space to your specific work area. This will help put you in the proper mindset for work. You should think outside the box when choosing where to put your office. You can clear out one closet and turn it into your workspace. The hallway and the space under the stairs are good options too. Look for a dead area in your home and claim it. Choose the best possible desk for the space. An office desk is ideal, but don't limit yourself. You can have a flip-down desk designed for small spaces. A dressing table or a floating desk will also work.
Color has a big impact on your lives, and the right hue can do wonders for your home office. For instance, yellow promotes energy and optimism. So why not paint your desk or shelves in this sunny color? You can also use color to make a small space look and feel large. Try painting the wall your desk is set against in a metallic color. Light will bounce off and make the space brighter. You can then use the wall as your statement piece or idea board. You can also take a page out of a
senior living design
strategy and use color to define an area. If you have an open-plan home, use a table and rug in the same color to create a work zone.
You have to come up with new ways to store your work when the space is small. An ottoman that opens is a good place to store your printer, papers, and files. Maximize the space with desk organizers. You can also re-purpose old cups and vases to hold your pens, scissors, and extra cables.
Breathe Life in Your Office Space
Working from home can be stressful. The pandemic and the social isolation forced on people is adding to that. You can raise your spirit by putting some plants in your office space. A little bit (or a lot) of greenery will brighten the space. It also helps purify the air. It also makes your work area look alive and vibrant. It's good for your mental health and can boost productivity. There are a lot of plants to choose from. But if you're looking for something low maintenance, your best bet will be the aloe plant, peace lily, or snake plant. You can put small pots on your desk or on the shelves. You can also use large potted plants to define your space. Did you get some ideas on how to design your small office? This post on
2021's hottest design
trends can also help.
Building Dreams One Day at a Time
When it comes to design and construction, nothing beats
Rising Star Properties
. We are Florida's top
senior living developers
. We've been in the business for decades. Our design experts can come up with solutions tailored to your project. We offer
general contracting
and
construction management services
. You can call us at
(386) 316-9218
or at
(561) 301-3222
. You can also email us at
risingstarflorida@outlook.com
.
The pandemic caught the whole world by surprise in 2020. Everyone had to scramble and adjust to a new way of living. Families had to adjust their lifestyles. New types of services came out. Even the different